Our focus is providing excellent hearing for everyone
Otec Hearing is a customer driven independent hearing care provider. Our audiology expertise can help you or your family's hearing using only the best technology in the industry. Operating from two clinics and offering home visits, your hearing needs are our number one priority.
Request a Callback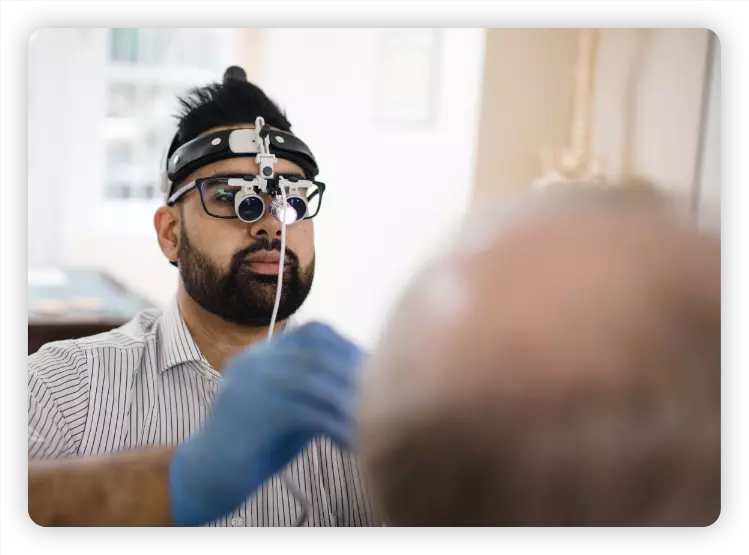 What is an independent clinic?
Traditionally most hearing care services are accessed through your GP or a hospital. Operating as an independent family run hearing clinic, we can offer a multi specialities all under one roof. Being an independent Audiology clinic means we can offer you the best advise to find the best solution for you and your lifestyle with no hidden goals or bias.
Independent Audiologist with free impartial advice
The benefit of being a truly independent Audiologist means we have the ability to work with a wide variety of hearing aid manufactures from across the world including GN Resound, Phonak, Widex, Starkey, Oticon, Unitron, Signia & Bernafon.
All our hearing aids & accessories are available with a free 2-week trial regardless of the style with a hassle-free return if the system is not suitable for you.
Our guarantee to you
Your hearing health should be your top priority and that is why our qualified Audiologists will be with you at every step of your hearing journey. We guarantee to help make the right decisions based on your lifestyle and requirements.
Your hearing care provider
Hearing loss can be a sensitive issue, so it's important that the people you trust to look after it provide a reliable, quality service.
Your hearing is a huge part of your every day-to-day life whether it is having a conversation with your loved ones, watching the TV, social situations or exploring the world.
This is where the specialists at Otec Hearing can help improve the quality of your life, caring and managing any severity of hearing loss so you can always be connected to the world around you.
Book an Appointment
Meet your professional Audiologist
Hello! My name is Kashif Mohammed, and I am the Director and lead Audiologist, Hearing Aid Dispenser and Wax removal specialist at Otec Hearing. I am fully qualified with a BSc Hons in Audiology, registered with the HCPC and insured for professional indemnity to carry out private hearing assessments and ear care.
I graduated as an Audiologist in 2016 and started work in the NHS carrying out hearing assessments, GP referrals and hearing aid fittings using state of the art equipment. During my job role in the NHS, I also worked alongside the Ear, Nose & Throat surgeons to carry out hearing assessments and tympanometry to test middle ear functions. This helped to set the foundations to my career as it exposed me to lots of valuable experience which I could apply in any clinical environment.
After working in the NHS, I decided to widen my skillset and secured a job as a Branch Manager within one of the UK's leading private hearing aid companies. During this time, I trained with world leading hearing aid manufacturers which gave me a deep insight into hearing aid technological advancements and how and how this technology can be used to improve a customer's quality of life. As part of my job role, I was also given the opportunity to train fellow hearing aid dispensers with an advanced technologies such as Real Ear Measurements (REMs) which is a hearing aid verification tool used when fitting hearing aids. Another part of my job was successfully setting up hearing care practices within Optical Dispensaries to further expand the demand of state-of-the-art hearing technology.
To further widen my work as an Audiologist & Hearing Aid Dispenser I trained and passed examinations to carry out a very specialist procedure called Microsuction. Microsuction is the modern method of ear wax removal and can only be carried out by ENT specialists, Audiologists, or an appropriately trained practitioner.
With a combination of my experience in different environments and skillset I have successfully set up two independent hearing clinics offering a wide variety of services including hearing tests, private hearing aids, hearing / music protection, ear wax removal with either Microsuction or Ear Irrigation and medical legal work.
What to expect during your visit?
At Otec Hearing we make it easy for you to have your hearing checked and keep track of your hearing health.
Strong, reliable hearing aid aftercare
Hearing aids are a long-term investment with life- changing potential. We take this responsibility very seriously, ensuring we have the knowledge and experience for you to obtain the maximum benefit from your hearing aids.
They are sophisticated instruments. The quality and reliability of modern hearing aids is excellent, but it is important to remember that they can go wrong from time to time. Also, your hearing may change over time which will mean that your hearing aids will need to be changed accordingly.
Reassessments
We normally recommend a full reassessment every two years. Just as our eyesight changes over time, so can our hearing. We will retest your hearing and re-tune or reprogram the hearing aid if required.
We are available at any stage if you have a problem or need advice, all as part of our aftercare service. The hearing aids are just the beginning. The fitting, fine-tuning and ongoing support is where we deliver outstanding benefits.
Book an Appointment
We are registered with...